LOOPY DAY - REWIND (TO FRIDAY)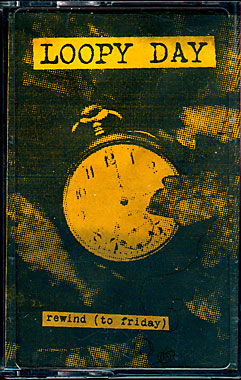 Loopy Day is jbrandtp's guitar project.
During the 80s jbrandtp played guitar in various bands of the Copenhagen underground scene - first and foremost the duo Cat's Cradle.
Around 1990 he abandoned the guitar, however, to devote himself to music created on the computer. SpaceController has released several CDs with jbrandtp's electronic music.
After 15 years of concentrated work with electronic music, where he worked with sound as material, he began ca. 2005 again taking an interest in the analog domain with a digital artist's ears.
He has since made graphic scores for various ensembles that describe simulations of computer processes. In 2007 he started the orchestra
Natur 2
, which plays on unamplitied unprocessed natural objects.
As a logical consequence of this development, he took up the guitar again in 2008, to rediscover his musical base.
Rewind (to Friday) is built around a loop pedal and a drummachine. By building simple rhythms and basic loops jbrandtp creates a musical framework, upon which he then paints layer upon layer of fine guitar textures.
The publication of the cassette is emphasizing the project's retrospective nature.