LYDBEBYGGELSE (Sound-district)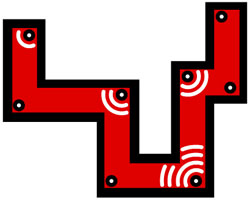 A SOUNDDECORATION-PROJECT BY
JBRANDTP
Sound-District gives the architecture of buildings a new sense of space. The purpose of the installation is to make sound on staircases and hallways of larger institutions. These spaces are often neglected as uninteresting passingthrough-areas. By filling them with sound, Sound-District can emphasize their unique architecture in a way impossible with visual decoration.
Sound-District is a sound-piece for 8 cdplayers and 8 loudspeakers. Because of the different lenghts of the cd's, the sound will continue to sound different. The installation creates a sense of unity in the architecture by placing the 8 loudspeakers with regular distances through hallways or staircases. Sound has the ability to move around corners (difraktion), and by this connect remote areas with each other.
The sound-material is made of stones. Some of these stone-sounds are processed digitally, creating abstract sounds, that keeps the characteristics of stone. The cd's are made up of blocks each 3 minutes long. Each time the cd's change to the next block, a change in the soundscape can be noticed.
Sound-District was installed in the staircase of Vesterbro Kulturhus in Lyrskovsgade in Copenhagen in february and marts 2003, and in the cellar corridors of Islands Brygges Kulturhus in Copenhagen in may 2003.