GADESPEJL (streetmirror)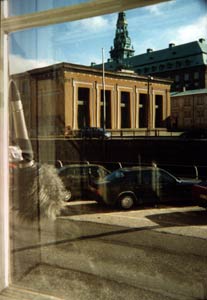 A sound installation by jbrandtp.
Street Mirror is part of Sound event
sssshhhhh .....
Installation in shop, gallery or similar placed in street-level.
One microphone placed outside the shop, and one inside connected computer running a SuperCollider program pulex developed by jbrandtp. The program records sounds at regular intervals (about 3 times in minutes) either outside or inside the shop. These samples are played in rhythmic repeated fragments. The effect is best described as an advanced tapdelay. When the street and the shop are silent, the program will capture the silence and throw it back. As the activity increases in the street and / or in the shop, the program will incorporate the sounds and will also grow in volume. If the visitors in the shop talk, it will be sampled and included in the sound, but if the visitors are starting to listen to it, it will eventually be played and disappear again. Sounds out on the street and inside the shop will be reflected in a shattered mirror of changing patterns. By creating repeated rhythmic patterns out of the cacophonc noise in the street, there will be order in chaos, and suddenly we perceive the sounds in a completely different way. At the same time introduces a pulse (big city pulse). The speed of this pulse will be key to how we perceive patterns, and will be changed during the 3-4 days ithe nstallation is running. From a slow soothing pulse of 60 BPM (beats per minute) to the hectic 140 BPM. It will be possible to change various parameters continuously. The parameters will automatically change slowly over time or be controlled manually during announced live events a few times during the exhibition period.