KOM DE BAGFRA ORKESTERET - BUNKER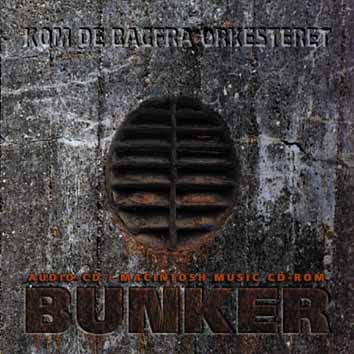 (SpaceController Records - SPACD 04 - 1998)
A new experimenting music cd-rom with .
The cd captures the unique atmosphere at the danish west coast. The conflict between the beautiful, but sometimes rough nature, the sea and the sand, and the ugly eroded bunkers of concrete from the World War II, that lies scattered among the dunes. Like warning signs from the past.
The Kom De Bagfra Orchestra has recorded a 50 min. North Sea composition for analogue synthesizers. It can be played on normal audiocd-players.
The interactive graphics in the cdrom part makes Bunker a unique experience.
This is screendumps from the program:
Click on the thumbnails to see the full screen version.

The images are generated to the music
following different rules of randomness.

The User manipulates the output by pressing different keys
on the keybord while the images are being generated.
If you have a PowerMac you can also download the small freeware-program , that generates tartan-like patterns. Tartans gives you a preview of the graphics on Bunker, which consist of more than 15 similar graphic-generating modules.

BUNKER is developed in MAX, an object-oriented MIDI-programming-enviroment..
VIGSØ
This is a Quicktime VR panorama from Vigsø - on the northern coast of Jutland.
Click on the image below to start.

Notice that the file is about 500K, so it will take a while to download.